Wild Burgundy Snails. Always Wild, Never Farmed.
Wild Burgundy Snails, a timeless French delicacy, are finally available in the United States. The preeminent purveyors in Burgundy, la Maison de l'Escargot, has been satisfying the most discriminating palettes in France since 1894. In three-star Michelin-rated restaurants like Paris' Taillevent, and in over 1000 of America's top dining rooms, these snails grace the finest tables. Similarly, retail consumers who pride themselves on using impeccable products, serve only the best in their homes.
As with all gastronomic delicacies, escargots exhibit varying levels of quality. Potironne's snails have maintained an unwavering reputation for incomparable products amid the demands of the culinary capitals of the world. The formula is quite simple, frankly. We begin with purely Wild Burgundy Snails (Hélix Pomatia Linne), delivered live. These savory delights are then hand-sorted by size, washed, and cooked in an aromatic bouillon according to the same ancestral standards used in 1894. Finally, all according to the strictest hygienic standards (FSSC 22000 Certified), the escargots are conserved for sale.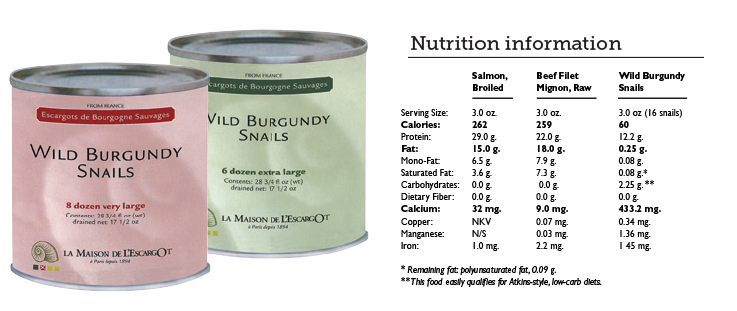 At Potironne, LLC, as exclusive distributors, we are pleased to offer these products in the following specifications:
Two Dozen, Very Large, 7-1/5 fl. oz. (wt)
Three Dozen, Extra Large, 14-1/3 fl. oz. (wt)
Four Dozen, Small, 7-1/5 fl. oz. (wt)
Six Dozen, Extra Large, 28-3/4 fl. oz. (wt)
Eight Dozen, Very Large, 28-3/4 fl. oz. (wt)
Sixteen Dozen, Small, 28-3/4 fl. oz. (wt)