Available Now at These Select Retailers

At Aisle Forty Eight, they specialize in gourmet cookware. We offer hundreds of the highest-quality and premium cooking ware, ceramic dinnerware, food storage containers and much more.
---

Today, DEAN & DELUCA still offers the very best in service, quality and of course, selection.
---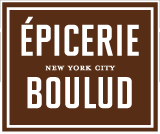 Épicerie Boulud is Chef Daniel Boulud's eat-in and take-out market on Manhattan's Upper West Side at Broadway and 64th Street. On the market shelves you'll find house made gourmet foods plus a selection of condiments selected by Daniel and his chefs in their world travels.
---

Founded in 1997, igourmet.com is North America's leading online gourmet food and gift retailer. Offering over 800 specialty cheeses, thousands of fine foods, and a complete line of exquisite gift baskets, igourmet.com is the preferred place to shop.
---

When you buy from ChefShop.com, you are getting the purest foods made by family producers whom we've individually selected for the quality of their ingredients and their adherence to tradition.
---

A family Business established in 1997 to bring quality Gourmet products from around the world. We carry coffees from 7 different countries. We also have 15 different Fava products, Burgundy Escargots, Gourmet jams, etc...
---

Coastal Seafoods offers party trays, crab cakes, soups and more for all of your entertaining needs.
---

Talula's Table is a gourmet market in historic Kennett Square, PA. As a modern day general store for food enthusiasts of all types, we offer all sorts of our own homemade specialty foods as well as imported goods from around the world.
---